How to Sand a Gemstone Carving with a Flex Shaft or Dremel
Sanding a Gemstone Carving with a Dremel or Flex Shaft
Published by Nick Alexander in Lapidary Library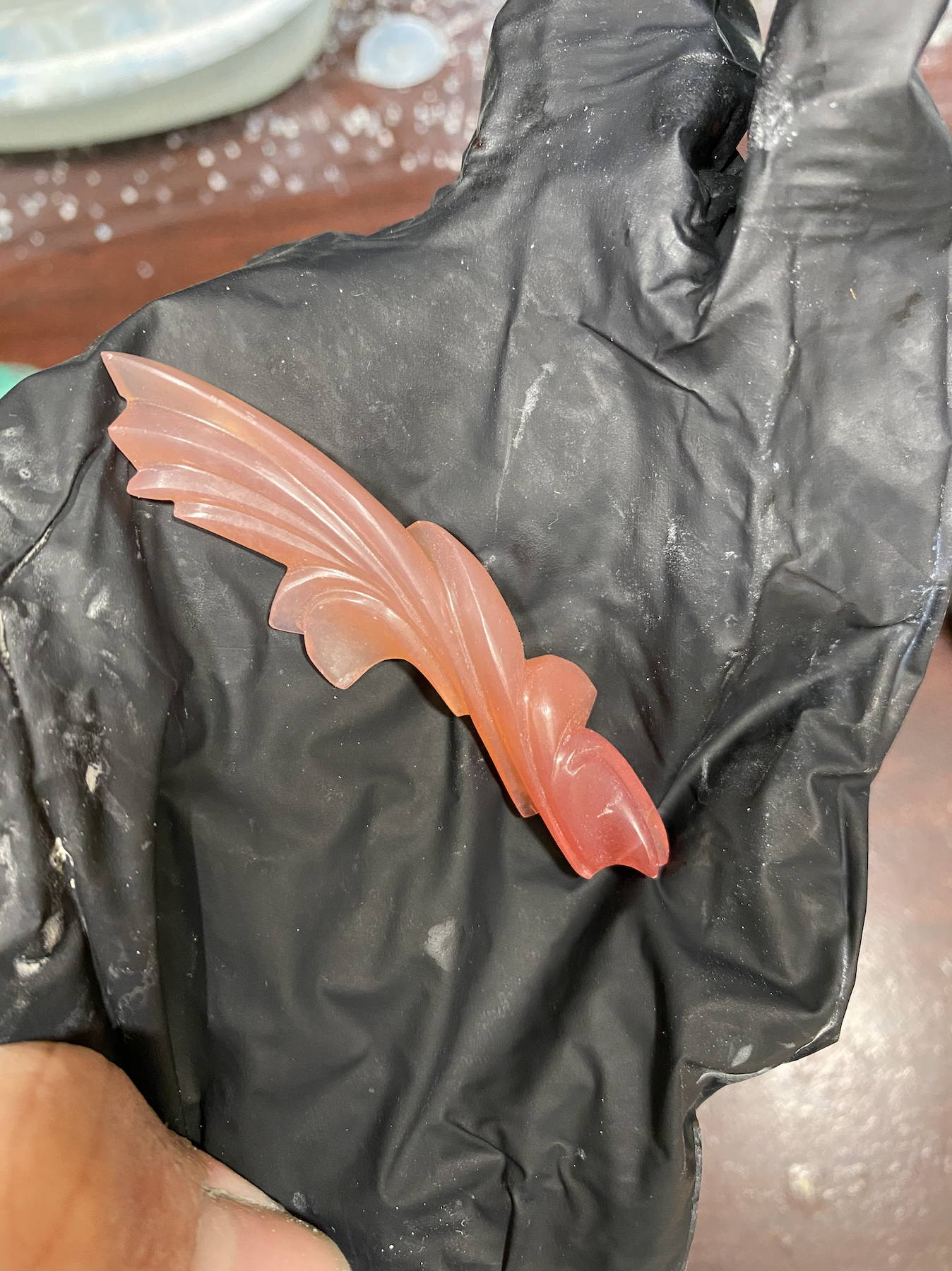 Sanding a gemstone carving is a crucial step to ensure a high-quality finished product. Without an effective sanding process it can be very difficult to polish the gemstone in the later stages. A poor sanding job may result in having to spend unnecessary amounts of time while finishing or in a stone that in the end, looks mediocre. This article will go through the stages that I take to sand my gemstone carvings with a Dremel or flex shaft. I find this method cuts down on time and headache. I use only a few tools to accomplish the job which in turn, allows me to become efficient with those few select tools. Note, this is not the only way to sand a gemstone carving, as everyone has their preferred techniques. Take what tools and techniques work best for you to develop your own sanding process that is efficient and time conservative.
---
Through my personal experience in cutting, I have come to realize that there are many tools not found on the market that would be beneficial to lapidary cutters. At Cutting Edge Supply we have made it our mission to supply these hard-to-find tools and make them available as soon as possible. In the meantime, we suggest you get creative with the scrap materials around you and make homemade tools that get the job done. You'll be amazed at what resources you have on hand to construct tools out of.
---
As you make your way through the carving process you can use these pictures as a reference as to what your product should look like at each stage. This photo is of a garnet carving that I was cutting for myself. These photos were taken right after I was done roughing in all my lines with diamond drill bits and wheels. This is what all my gemstone carvings look like before I start sanding. However, if you are just beginning, then I would suggest cleaning up your lines with a #400-600 grit diamond wheel. Doing this will add a precision and cleanliness to your lines before you start sanding.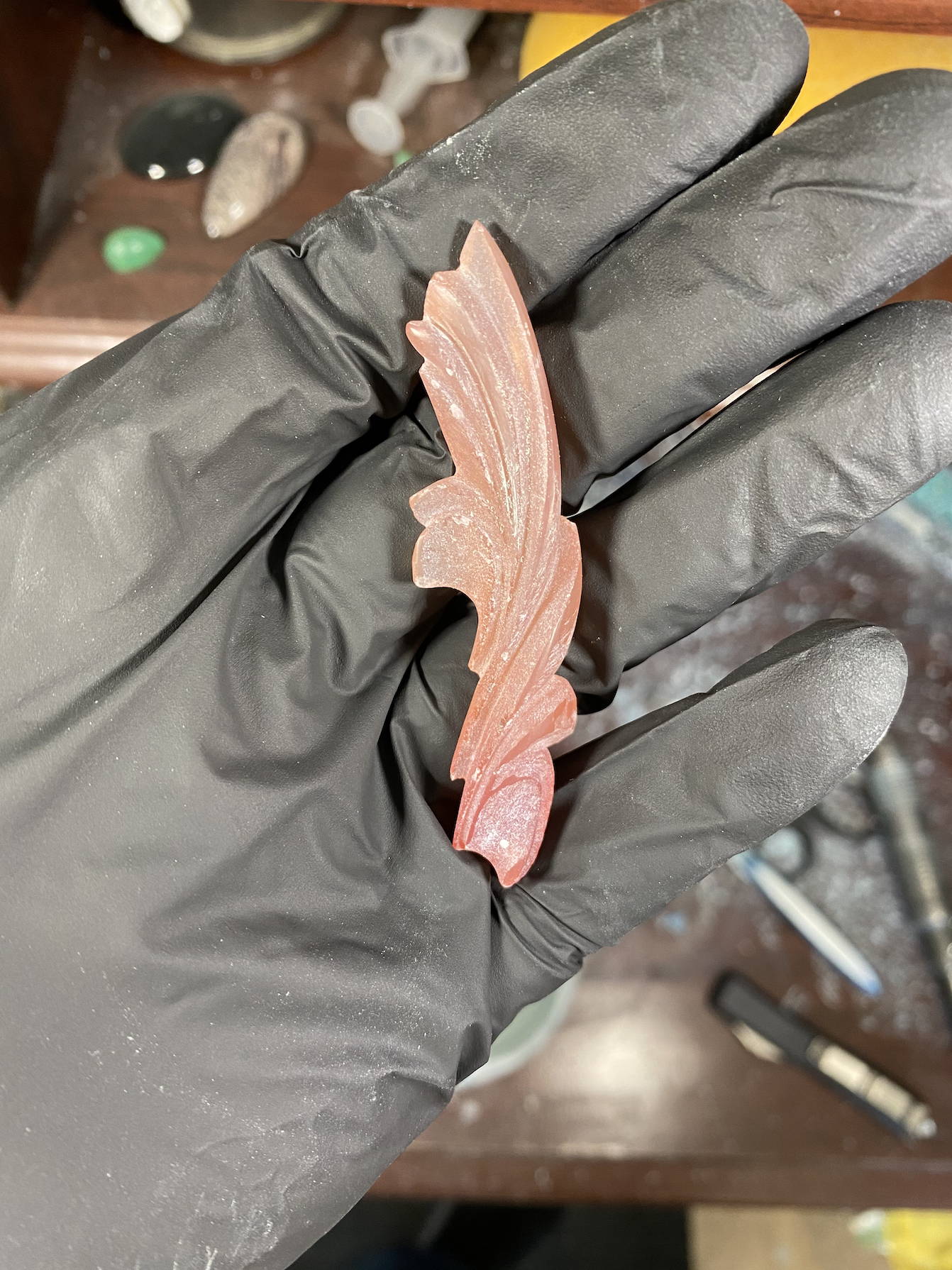 ---
As you can see, there is a lot of chipping in my stone and because I stopped cutting at a #120 grit there are also many grinding marks that will need to be taken out. To start sanding my gemstone carvings I always use a Diamond Precision Sanding Disc. These disposable discs are made of thin diamond paper that hold their shape extremely well while cutting. They are also durable so you can get a lot of wear out of them before it needs replacing. Personally, I typically get two carvings out of each disc.
Helpful tip: By putting a thin piece of rigid plastic behind the disc you will make them last even longer. This method makes it so that you do not put so much stress on the center of the paper while you are putting pressure on them while carving. I used a piece of scrap plastic that I found lying around the house and cut it into a circle. Then I drilled a hole in the middle and put it on my steel mandrel before I put on my diamond disc.
Use this tool to sand your entire gemstone. These discs are flexible enough to get into any dips or creases that you have cut into your stone. I usually start with a #230 grit and finish with a #600 grit disc. ALWAYS USE WATER! While you are sanding with these you are trying to work all the faces to get rid of any chipping, grind marks and to perfect the flow of your lines.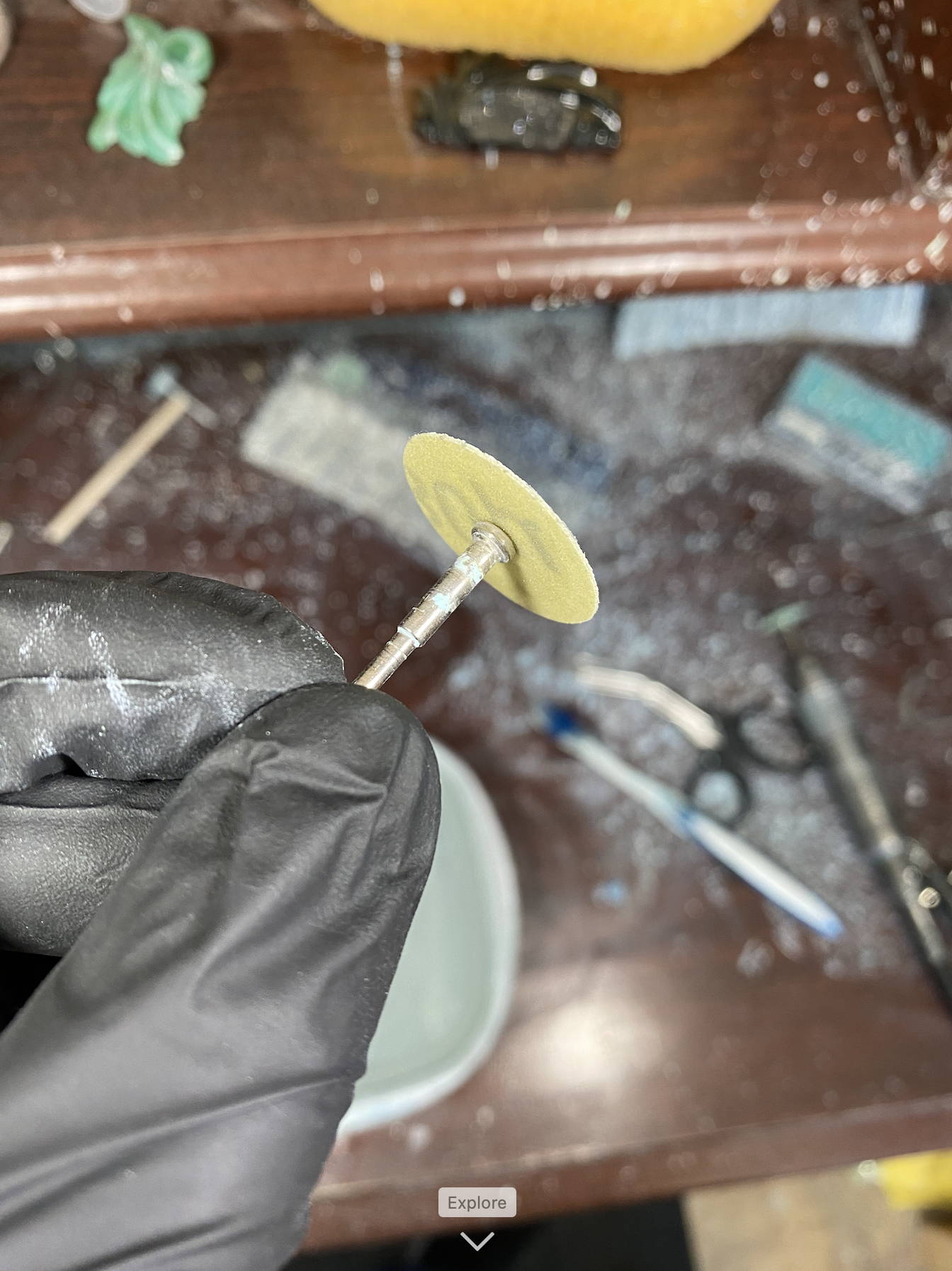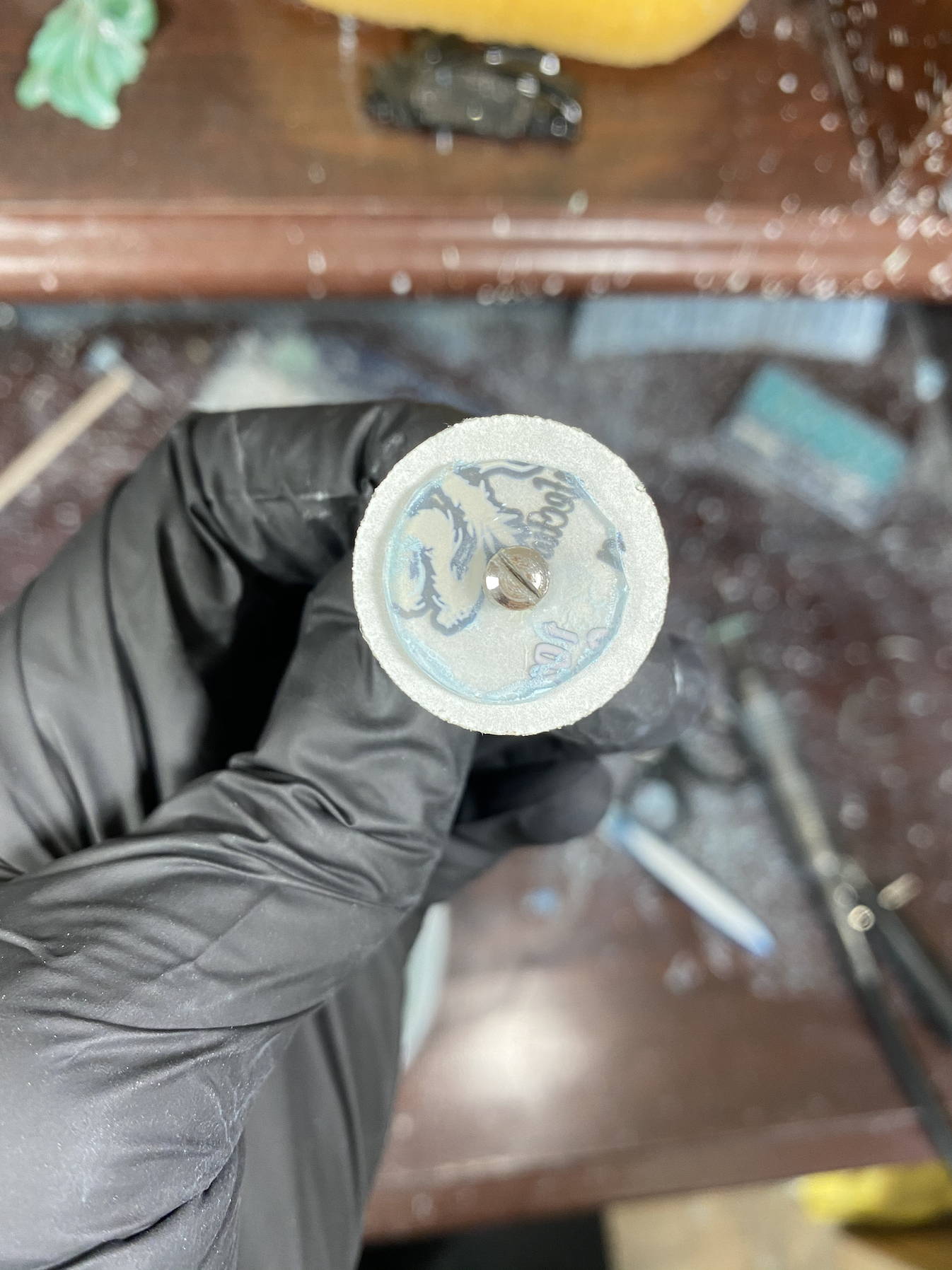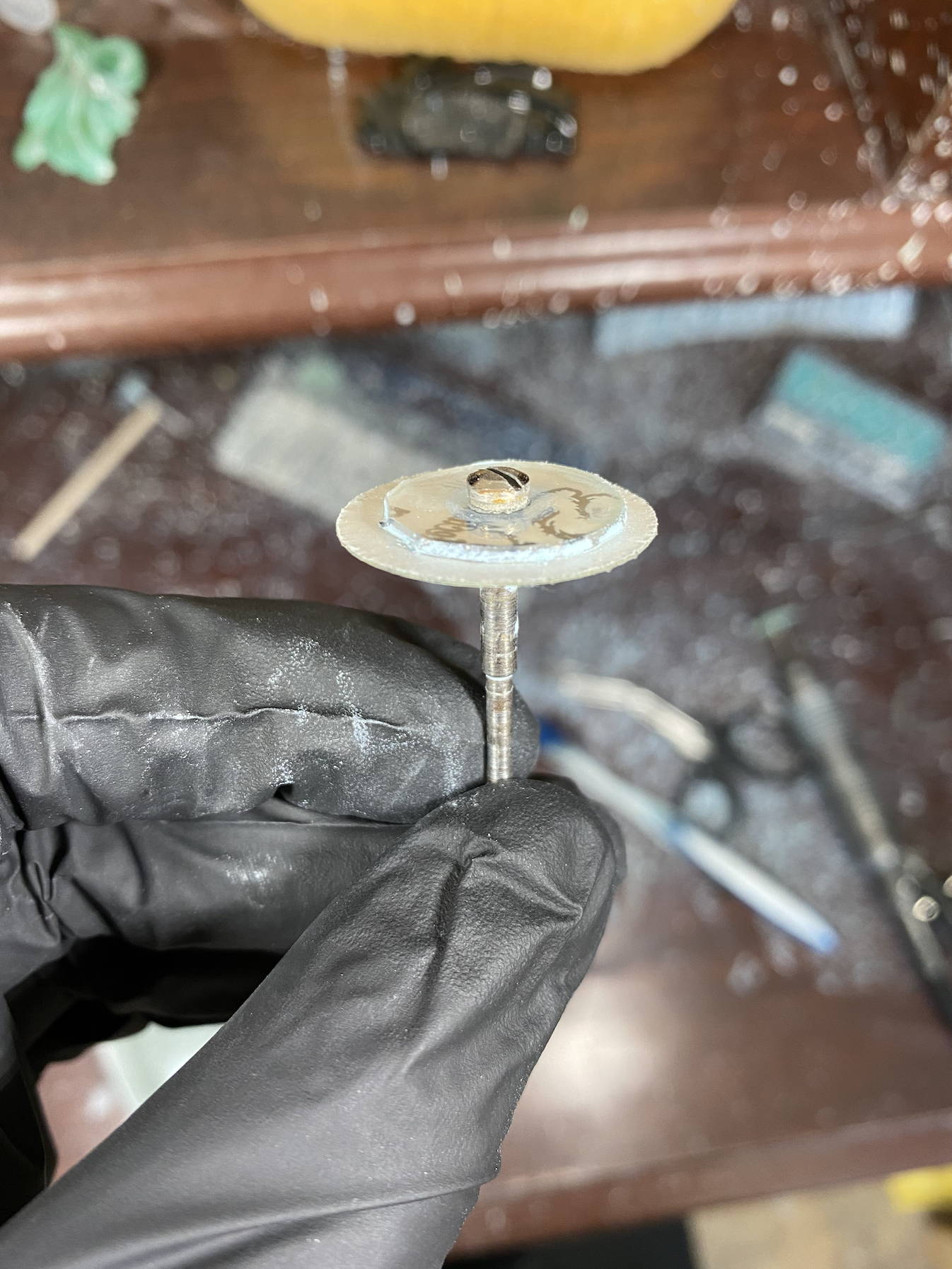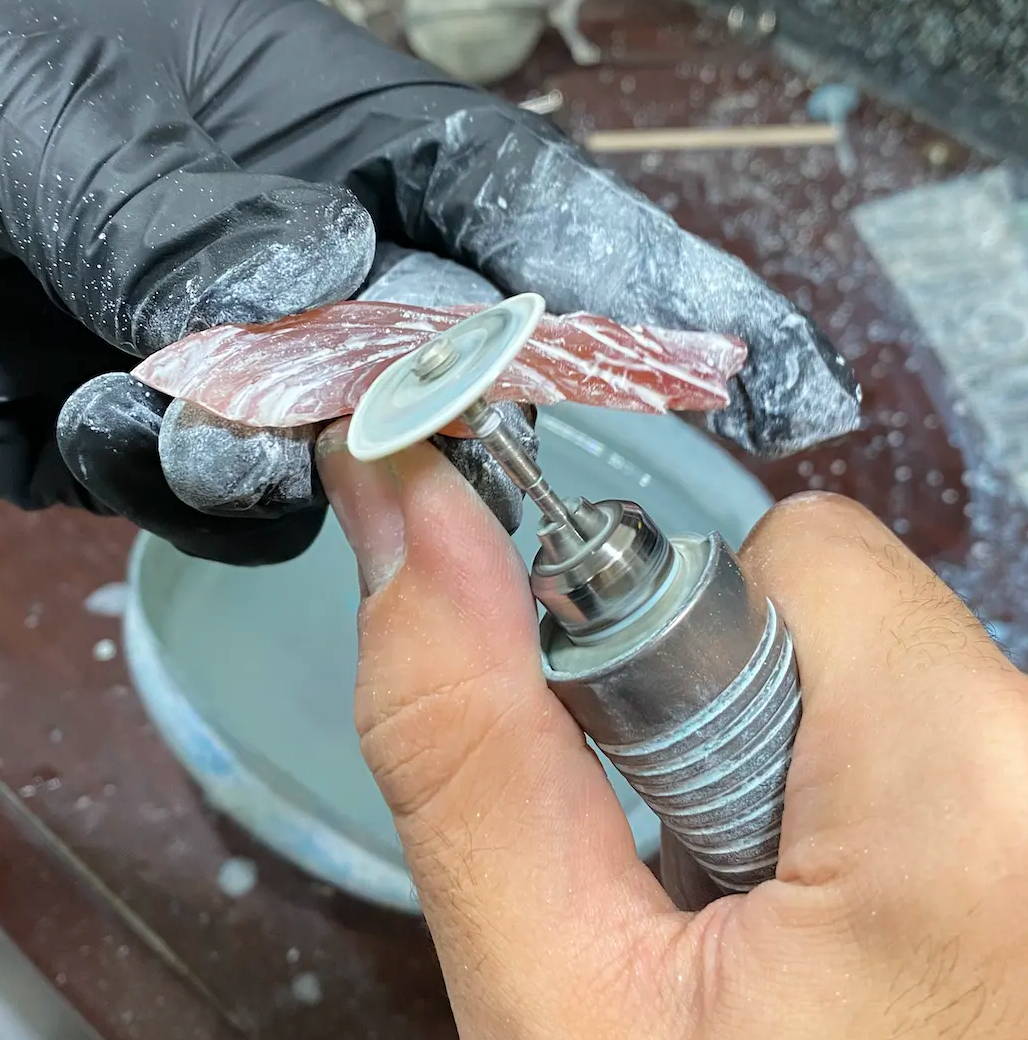 I use a slow speed on my flex shaft while sanding so that I can pay close attention to what I am doing. These discs flex and move as you apply pressure so use the needed pressure to get your job done, but don't go crazy. These discs can be ruined if you press too aggressively.
On average I take between 1-2 hours to sand a gemstone carving. You do not want to rush this process because you are setting yourself up for later stages of cutting. Without a quality sanding job it is impossible to do a quality polishing job. This is what the gemstone should look like after you are done sanding with the diamond discs.
Notice how all of my lines are clean and flow nicely. There should be absolute minimal chipping at this point. If you see any lines that have ripples in them or edges that are not smooth, then go back and touch them up. I usually will go back with an optivisor and check it over with a critical eye. The easiest spots to miss are the inside edges and the edges that are wrapped around the back and not visible from the front.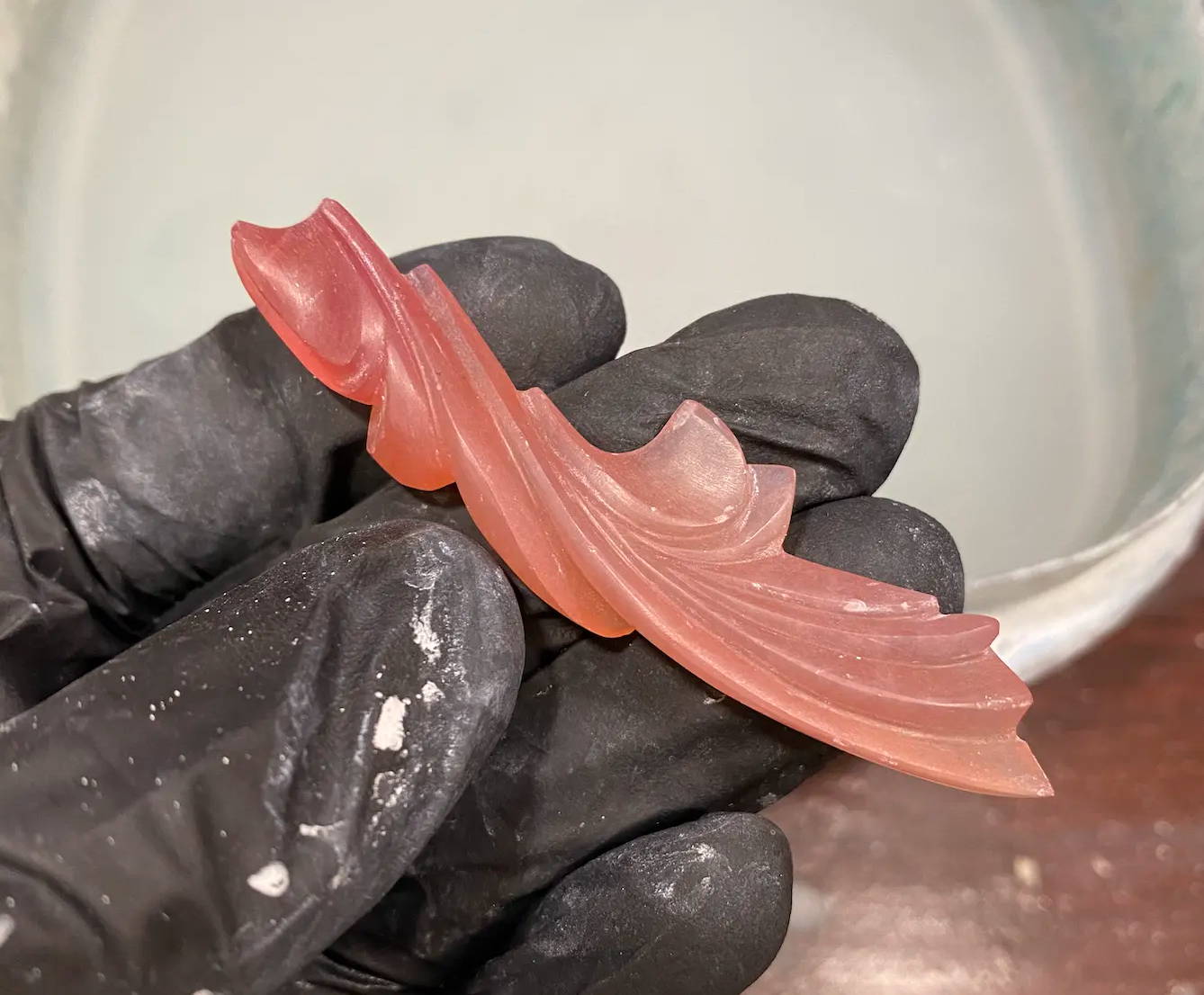 ---
Next, I go back with a rubber Sanding Wheel (Fine) and touch up any spots that need refining. This wheel will slightly cut so it can remove small chips. With an optivisor on and a fine eye, I go through and take out every mark that I missed or could not reach with the sanding disc. In the pictures to the right you'll see an area that needed to be cleaned up on my stone before I could move on.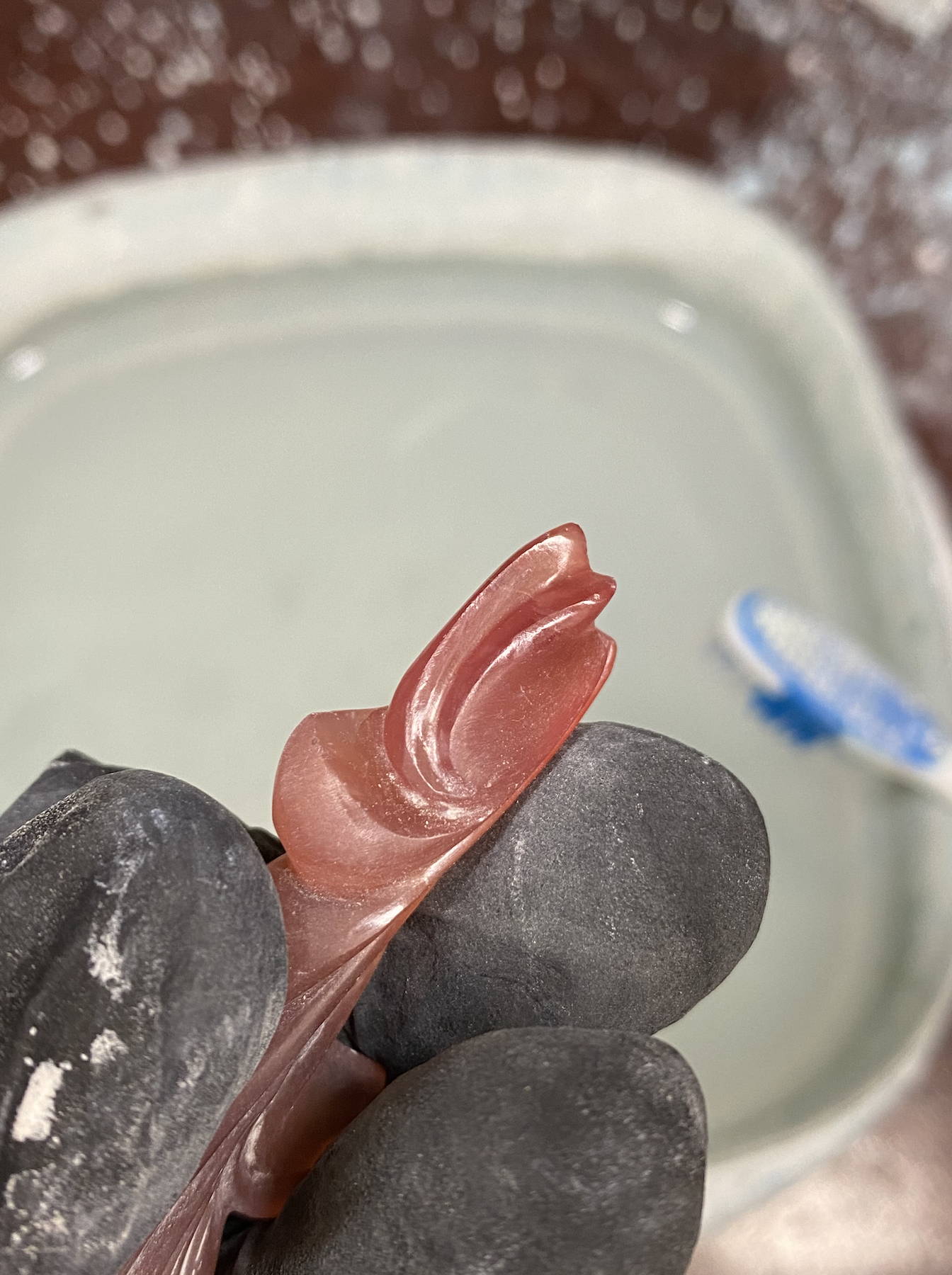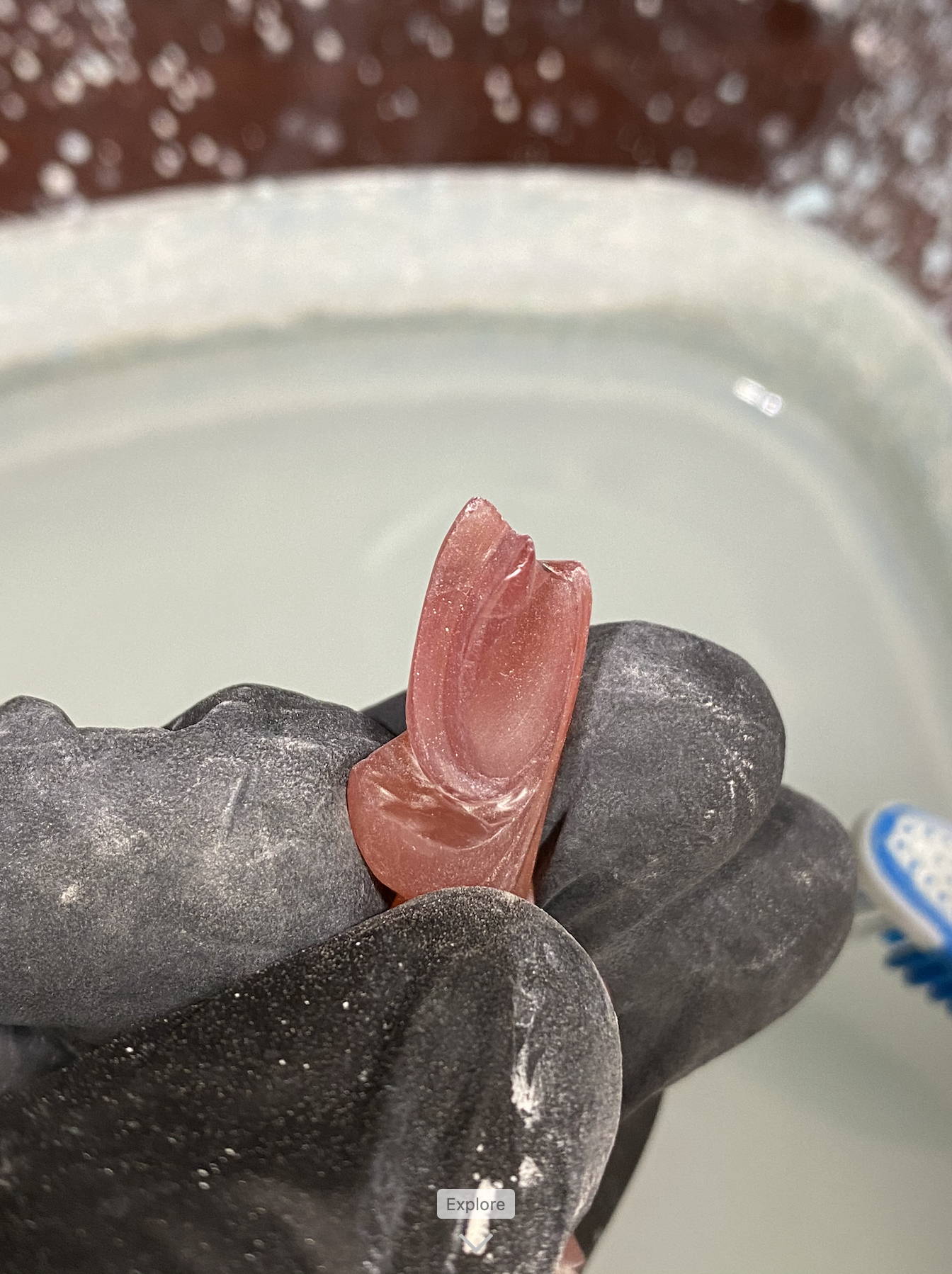 The rubber wheel will not only take out the grind marks but it will also leave a semi-polish. If it is wet then it will cut much faster, whereas if you use it dry it will start to polish. Without this wheel the sanding process would be significantly more difficult. It allows you to simultaneously be precise with your cutting and leave an incredible finish.
---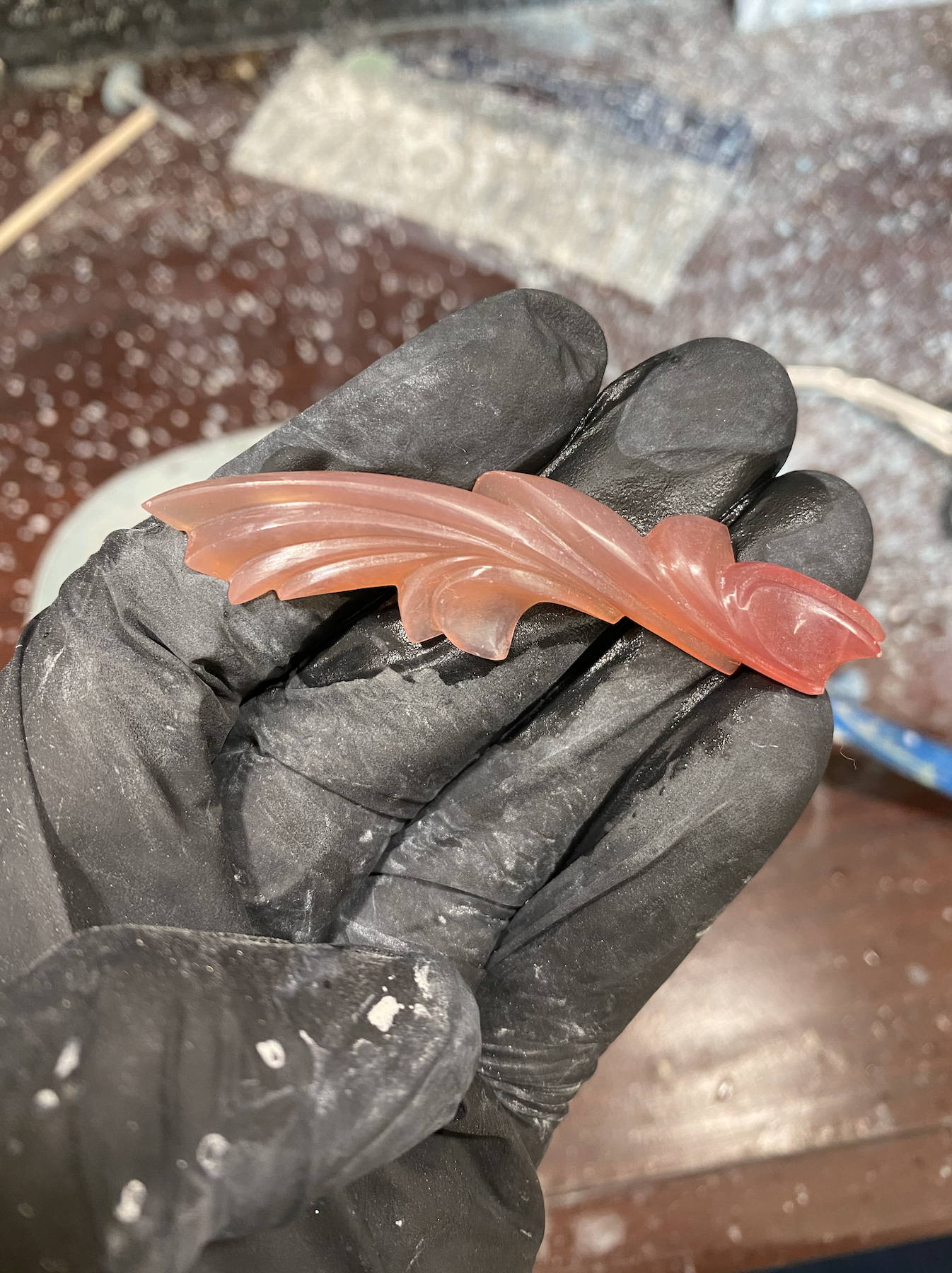 On average, I get between 40-50 carvings for each one of these rubber wheels. Be sure to use them carefully and take note to keep the edge as sharp as possible for as long as you can. There is no need to run these at a high speed. A light touch will do the trick. This is what my garnet looked like when I concluded with the rubber wheel.
Due to the high value of this stone, I lightly went over the entire piece with the rubber wheel to give it a slightly better finish, then once more, I carefully critiqued my lines. However, that final touch is not necessary.
---
An alternative option is to use a diamond pressure pad. Diamond pressure pads really come in handy when you are sanding a harder gemstone like agate or onyx. If I am sanding something harder, then after I am done with the diamond sanding discs I will switch to the diamond pressure pads because they will leave a slightly better finish. The pads curve and conform to your stone while working similar to the diamond discs. I highly suggest trying these out if you are having trouble with the discs or want another step before moving to a diamond grit.
---
The Final Step to Sanding a Lapidary Carving
As I mentioned earlier, I use a diamond grit to finish my sanding process. The diamond grit I use is the #600 grit Cutting Edge Supply Diamond Compound. I find that this compound is the most effective when sanding gemstones. I use the compound with a bristle brush. It does not take much compound to get the job done so use it scarcely. A 5-gram jar will usually get me through 50-75 stones. To begin, I use a very slow speed and work the stone with a lot of pressure. This will give you the most cutting action. The slow speed causes the diamond to really work and it keeps the compound on the stone for a longer period of time. Bristle brushes are not as long lasting and I usually end up using a bristle brush for each stone I cut. But that is nothing to worry about. If your bristle brush is losing all of its hairs, then toss it. Once you start getting close to the metal hub you run the risk of chipping or marring your stone and it is not worth it.
You are looking to create an even, smooth looking surface during this last step. You don't want any hard edges on your carving. You want to make sure that the entire stone has been worked to an even surface that has a clean flow and doesn't have any ripples. This is your last chance to take out any imperfections and smooth everything out.
---
If the bristle brush isn't cutting enough for you to take out the last imperfections, then use materials like wood, hard felt, and copper to charge and sand with. You can find these materials on the Cutting Edge Supply website, or you can make them out of scraps. Cutting Edge Supply Hard Felt V-Wheels are a phenomenal option if you are having trouble with the bristle brush. These are hard wheels so they will cut faster and be more precise. They will also fit into skinny lines so you can sand your bottom edge with ease.
Helpful tip: I use old popsicle sticks to charge with diamond and sand small dimples or holes with. Chop Sticks are also a great item you may have around the house that can be used as a sanding tool; with them you can polish drill holes or bubbles. Channel your inner MacGyver and get creative!
---
An Example of a Final Product
This what my gemstone looked like once I was done sanding with a bristle brush. Once completed with this, you should be able to go over it with a 10x loupe and check your surface. Make sure that there are no grind marks on the surface or chips on the edges. You shouldn't see any ripples or unfinished areas. If there is anything noticeable then take the necessary steps back to correct the problem. Most things you run into can easily be fixed with the rubber sanding wheel.
The more critical you are then the nicer your final product will be. After a proper sanding process, the polishing process is a breeze! After this, I will only have about 30 minutes left to finish the gemstone. I will be writing an article explaining the polishing process very soon. Stay updated and I hope that the information here will help you in all your future gemstone sanding and carving endeavors. Feel free to comment below any questions you might have. I am always happy to answer!